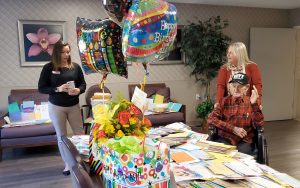 WW II Veteran Receives Thousands of Cards, and a Video from Governor Murphy
BRICK, N.J., Oct. 11, 2019 – George Campbell, a resident of Willow Springs Rehabilitation & Healthcare Center, got the surprise of a lifetime for his 102nd birthday on Oct. 10, thanks to his family and staff at the skilled nursing facility in Brick. The World War II veteran received an outpouring of birthday greetings, including a video from Governor Phil Murphy, a resolution from the New Jersey Senate, a proclamation from Brick Township and thousands of cards sent by well-wishers from across the nation.
It all began when George's daughter, Patricia Campbell-McAvoy of Brick, and Willow Springs Activity Director Jennifer Campbell asked George what he wanted for his birthday – to which he replied "102 cards." Willow Springs shared a post on Facebook with George's photo and his simple birthday wish. The post quickly went viral – viewed more than 134,000 times and shared nearly 1,400 times – and drew the attention of local, regional and national media.
Mail from across the nation began to arrive. To date, George has received in excess of 6,000 cards.
"We are so touched by the outpouring of kindness and support we received for George," said Yehuda May, LNHA, administrator at Willow Springs. "Our staff was thrilled to work with his daughter on this special surprise, and George's delight was priceless. We want to thank Governor Murphy and all those who sent birthday greetings and gifts; you made his day – and year! This has been a wonderful 'feel good' experience for the entire Willow Springs team."
Originally from Perth Amboy, George resided in Brick for many years and moved to Willow Springs, a Marquis Health Services member, in May. A proud Navy veteran, George served in the South Pacific during World War II. During his career, he worked as a sheet metal specialist, involved in building many diners, including the original O.B. Diner in Point Pleasant. Upon retirement, he became a curator at the Thomas Edison Museum in West Orange, where he worked for 25 years. George's many interests have included fishing, gardening and watching Wheel of Fortune.
When asked his secret to longevity, George answers "to be calm." Genetics may also play a role, as his mother lived to 104 years old. Married to his late wife, Kathleen Coogan Campbell, for 63 years, George remains a dedicated family man. He also has a son, Robert; three grandchildren, Erin, Jonathan and Brendan; and two great grandchildren, Alice and Clara.
Willow Springs hosts monthly birthday parties for residents, inviting family and friends to join the staff in celebrating. Festivities always include entertainment and, of course, cake.
Willow Springs Rehabilitation & Healthcare Center is a Marquis Health Services member. Based in Brick, Marquis Health Services is a recognized leader in providing subacute rehabilitation and skilled nursing care, operating nearly 3,000 beds at 25 Mid-Atlantic and New England properties.
###
Photo caption: Willow Springs Activity Director Jennifer Campbell (left) and Patricia Campbell-McAvoy with George Campbell and some of his birthday cards.
Media Inquiries:
Sandy Crisafulli/ Maxine Aviles
Caryl Communications
201-796-7788
[email protected] / [email protected]