Centenarian has resided at New Providence, N.J., Skilled Nursing Facility for Five Years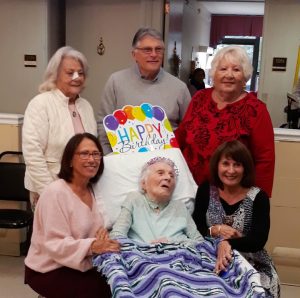 NEW PROVIDENCE, N.J., Nov. 20, 2019 – For Wanda Connelly, devoting herself to family and work – her two greatest loves and achievements – have served as the keys to longevity. Wanda recently celebrated her 100th birthday at Spring Grove Rehabilitation & Healthcare Center in New Providence, where she has resided for five years.
Pictured with Wanda at the celebration are her five children (clockwise from bottom left) Jacqueline, Judy, Tom, Marianne and Linda.
"We were delighted to celebrate this milestone birthday with Wanda and her wonderful family," said Beth Cohen, activity director at Spring Grove. "Wanda is a very special part of our community here."
Born in Brooklyn, Wanda is the second of six children of Jacob and Mary Marjek. Her family moved to Newark, where Wanda spent her childhood years. Wanda and her husband, Tom, who everyone called Buddy, shared many years together; she is most proud of her beloved children, 11 grandchildren and 12 great grandchildren.
An accomplished hairdresser, Wanda followed her entrepreneurial spirit, opening Wanda Beauty Salon in Irvington. Easily considered a trailblazer, the centenarian owned and operated the popular salon for 25 years, at a time when women-owned businesses were more of a rarity.
Spring Grove Rehabilitation & Healthcare Center provides post-hospital care, short-term rehab and long-term residential care. Located at 144 Gales Drive in New Providence, the facility maintains a five-star rating from the Centers for Medicare & Medicaid Services and is named among U.S. News & World Report's 2019-20 Best Nursing Homes.
Brick, N.J.-based Marquis Health Services acquired Spring Grove in 2018. The company is a recognized leader in providing subacute rehabilitation and skilled nursing care, operating nearly 3,000 beds at 25 Mid-Atlantic and New England facilities.
###
Media Inquiries:
Sandy Crisafulli / Maxine Aviles
Caryl Communications
201-796-7788
[email protected] / [email protected]