"Creating a Community of Caring" Themed Event Honors Hard Work and Dedication of Career Nursing Assistants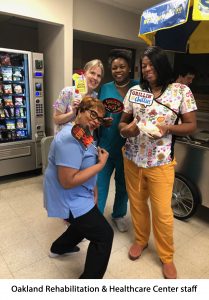 OAKLAND, N.J., June 20, 2019 – Residents and staff at Oakland Rehabilitation & Healthcare Center are celebrating the 42nd Annual National Nursing Assistants Week. The "Creating a Community of Caring" themed event honors the hard work and dedication of career nursing assistants (CNAs).
Located at 20 Break Neck Road, Oakland Rehabilitation & Healthcare Center, a Marquis Health Services member, provides post-hospital care, short-term rehab and long-term residential care. Its specialized programming aims to meet the specific healthcare needs of the local community.
To highlight the special efforts of the CNAs at Oakland – including (L-R) Cherry Golden, Charlene Hajbi, Stephanie Thomas and Samayiah Hodges – Marquis hosted a barbecue-themed party and asked residents, patients and their family members to send in their "thank you" messages, stories and photos. Marquis is sharing those submissions with the entire community at the skilled nursing facility.
According to the National Network of Career Nursing Assistants, a non-profit, educational organization, "nursing assistants are key players in the lives of the people in their care" and "each day, more than 4.5 million caregivers provide hands-on care to our nation's frail, elderly, or chronically challenged citizens in nursing homes and long term care settings."
Marquis Health Services, the healthcare affiliate of Tryko Partners, LLC, is a recognized leader in providing subacute rehabilitation and skilled nursing care, operating nearly 3,000 beds at 23 Mid-Atlantic and New England properties.
###
Media inquiries:
Sandy Crisafulli / Maxine Aviles
Caryl Communications
201-796-7788
[email protected] / [email protected]