Collingswood Rehabilitation & Healthcare Center Celebrates "Go Red for Women" Month, Bringing Awareness to Heart Health
As Part of Planned $4.5 Million Upgrade, Skilled Nursing Facility is Developing Cardio Pulmonary Care Program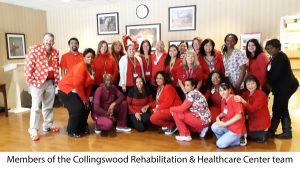 Heart health is always in style at Collingswood Rehabilitation & Healthcare Center, a Marquis Health Services member. Staff (pictured) and residents at the skilled nursing facility recently donned red attire to celebrate "Go Red for Women" month, the American Heart Association's signature movement to increase cardiac health awareness and improve the lives of women globally. Heart disease strikes more women than men and is the cause of one out of every three deaths.
Located at 299 Hurley Avenue in Rockville, Collingswood Rehabilitation & Healthcare Center provides post-hospital care, short-term rehab and long-term residential care. Marquis Health Services assumed operations of Collingswood in January and has plans to launch a $4.5 million renovation and programming expansion, including the creation of a Cardio Pulmonary Care Program focused on promoting independence and quality of life for heart and lung patients.
Marquis Health Services, the healthcare affiliate of Tryko Partners, LLC, is a recognized leader in providing subacute rehabilitation and skilled nursing care, operating nearly 3,000 beds at 22 Mid-Atlantic and New England properties.
###
Media Contact:
Sandy Crisafulli/ Rebecca Gramuglia
Caryl Communications
201-796-7788
[email protected] / [email protected]